Refill & Get 10% Off!
Our goal at Nezza Naturals is to refill or reuse as much of our packaging as possible. Bring in your refillable container and we'll fill it up and give you 10% off the retail price! Save money and the environment.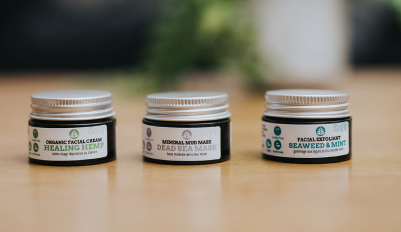 Jar Exchange
We don't refill our jars but we offer an exchange program! Bring back your empty glass jars for us to reuse or donate and you will receive $0.50 off your replacement jar. You may exchange it for a different jar product of any size! One glass jar of any size = $0.50 off any new jar at any size.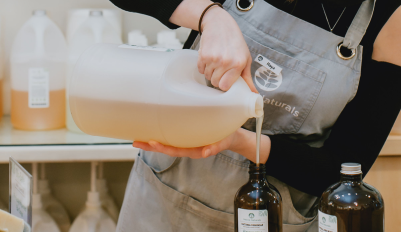 Jug Exchange
Bring back your empty 4L plastic jugs for it to be reused and receive $1 off your replacement jug.
These products are currently available for refill:
What do we refill you ask? All liquid soaps shampoo, conditioner, lotions, essential oils, perfumes, roll-ons, facial cleansers, toners, facial oils, carrier oils, bath salts, multi-purpose cleaners, room sprays, hair styling products, DIY ingredients, laundry powder, oxi-shine powder and more! 
Laundry powder

Dish soap

Castile soap

Multipurpose cleaners

Yoga mat spray

Oxi shine

Hand sanitizer

Mask refreshing spray

Liquid hand soap

Bubble bath

Body wash

Hand & Body Lotion

Facial cleansers

Facial toners

Clays

Serums

Aromatherapy mists
Hydrosols

Shampoo

Conditioner

Leave-in conditioner

Surf spray

Hair masque

Styling gel

Dry shampoo

Liquid dog shampoo

Dog dry shampoo

Baby powder

Shaving cream

Aftershave

Tooth powder

Aftersun

Bath salts

Vegetable glycerin
Witch Hazel

Mango seed butter

Beeswax pellets

Candelilla pellets

Cocoa butter

Soy wax

Pine resin

Zinc oxide

Citric acid

Emulsifying wax

Walnut shell powder

Jojoba beads

Mouth wash

Sunscreen

Baby bath soak

Carrier Oils

Facial Oils

Sports Liniment
*Please note, the refill program is only available at our Johnson Street location
We are following the Vancouver Island Health Authority Refilling Protocols which states that all refill containers should be CLEAN, DRY & EMPTY